Kick-Off Event, 28.5.2021
Note: The planning of the pilot phase and the kick off was done by Claudia Miesmer and Martin Leitner.
Objectives, target groups and methods:
The aims of the Bridging Barriers project are …
a European competence profile for basic educators
the exchange between adult basic educators
a training based on competencies for adult basic educators to overcome barriers in learning processes.
Target group are we as experts.
This Further education shall be useful fur Adult basic educators, social pedagogues, instructors, counselors, adult educators, German trainers etc.
We …
examine our professional competences
examine a problem-solving approach as a model of professional practice (Deliberate Practice)
The method of our training is cooperative learning.
We …
consciously make use of our own and other people's experiential knowledge
expand our own scope of action and that of our colleagues
derive competencies from actions
question our own attitude.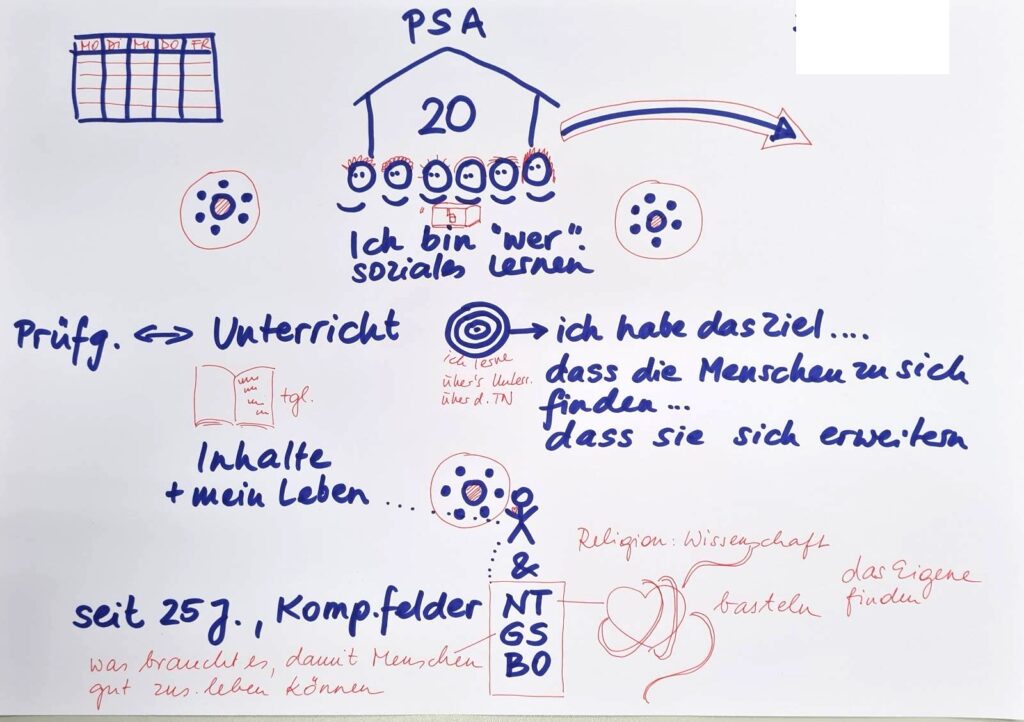 ---
We have formulated our convictions in advance:
Adult/basic educators have repertoire and expertise themselves.
We as experts are the instances to reflect on learning.
We use the idea of cooperative learning (learning from peers).
We want to make our expert knowledge (=implicit knowledge) visible (explicit).
Our contributions are at the same time the contents of our further education.
We want to reflect together: How can we "share" learning?
In the case studies we would like to:
→ Let others see and name our successful doing.
→ Let others see and name our unsuccessful doing.
For this we need knowledge, skills, abilities and attitude.
---
Günter Hefler and Eva Steinheimer produced a video in early summer for a better understanding of Bridgings Barriers. Many thanks!

⥀ Challenges in basic/adult education.
⥀ Locating learning needs.
⥀ Deliberate practice as a learning model
---
Our ideas to cover at the "pilot course" in June 2021:
We wanted to tell and discuss case studies from our own practice.
We looked at our past actions (successful and unsuccessful).
We wanted to name these actions, explain them to ourselves, analyze and examine them.
Through this we wanted to find out what knowledge is hidden in these actions.
This knowledge we wanted to name, explain to us and analyze.
This knowledge could show what competencies we have and what competencies we need.
We wanted to name these competences, explain them to us, analyze them and check them.
---
Questions that seem important to us:
What do I want to achieve with my work?
What does Discovery Learning mean to me?
What is learning by doing
What is learning through teaching?
---
Learning and competence: links to get in the mood
---
At the end of the 1st event, questions arose …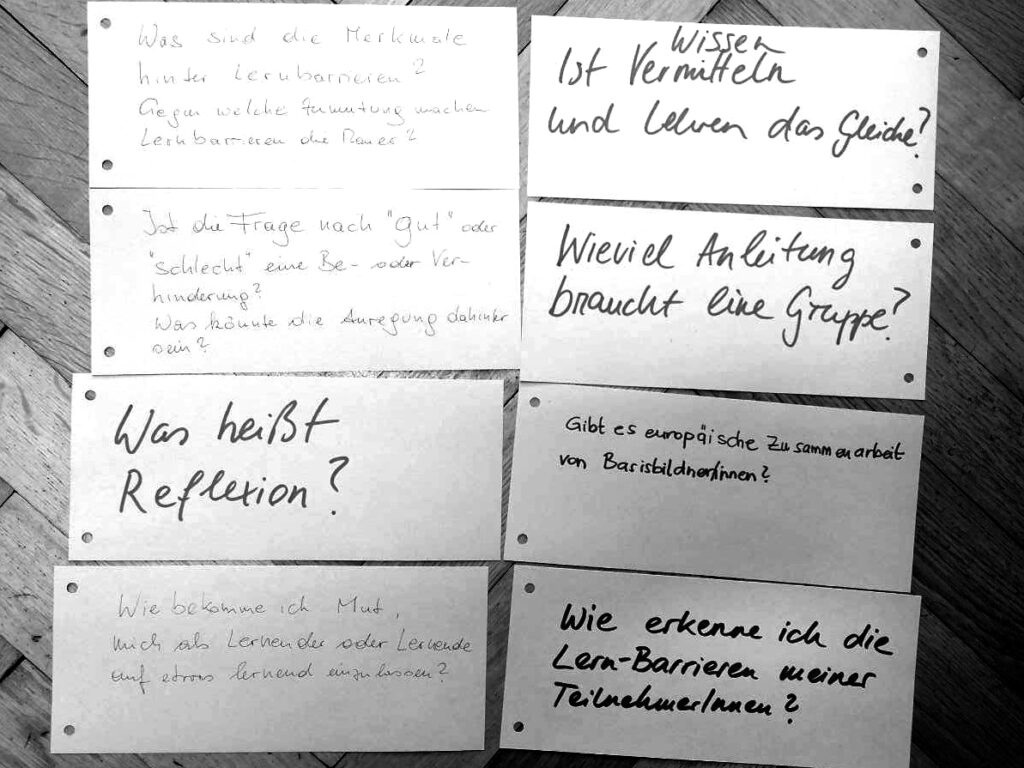 … for further joint processing.